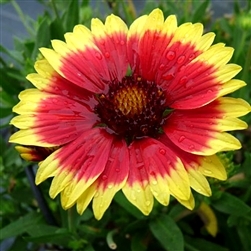 Gaillardia 'Sunset Cutie' New 2021
Price (excl. tax)
$15.99
HST (13%)
$2.08
Price (incl. tax)
$18.07
Common Name: Blanketflower
Flower: Brown/Creamy Yellow/Red
Width:
14 in
Height:
14 in
Image Credit:
Germania Seed
Gaillardia 'Sunset Cutie' forms a low mound with strong upright stems with multicoloured flowers. Drought tolerant and attracts butterflies, blooms all summer.
Shopping Cart Closed
Online Shopping
We are preparing for the 2021 season.
When plants and the system are ready for ordering we will activate the Shopping Cart System.
Thanks for your patience.