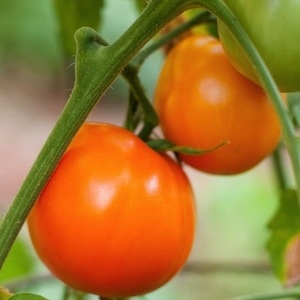 Valencia
Price (excl. tax)
$4.50
HST (13%)
$0.59
Price (incl. tax)
$5.09
Heirloom Variety
Large sized fruit
Indeterminate Plant
Size: 4.5" deep perennial pot
Image Credit:
Germania Seed
Produces good yields of 8-10 oz., orange fruits. Meaty and delicious with few seeds. Fruits have a sweet and tangy flavor. It ripens earlier than many other orange varieties making it a good choice for gardeners with shorter seasons. Excellent for salads and sandwiches.
What is an "indeterminate tomato'?
Indeterminate tomatoes will grow and produce fruit until killed by frost. They can reach heights of 6-12 feet. Plants can be staked or allowed to trail on the ground.
What is an 'heirloom tomato'?
Heirloom tomatoes are the varieties that our Grandmothers and Grandfathers grew. They are extremely flavourfull and juicy with a thin skin. They come in odd colours from striped green, to purple and black to all shades of red and yellow. They come usually in strange shapes and sizes from small to giant. Delicious to eat whole or in sandwiches or in salads or sliced and put in oil and seasoned.