Our Roots
Our original Ukrainian name was Bodnaryk and it was shortened to Budd by my grandfather, Peter, after he arrived in Ottawa in 1904. Having been orphaned at an early age (Peter's mother died at childbirth, and later his father was struck by lightning while working in the field) my grandfather was raised by the people of the village.
When he read a poster asking for people to come to Canada, Peter sold his small piece of land and boarded a boat to Quebec City. With the rest of his money he purchased a train ticket west, but only had enough to get to Ottawa.
My grandmother Theresa, arrived in Canada in 1913 and by then my grandfather was a widower with a young son. They were soon married.
They had four more sons, one of them our father Michael. My brother David and I grew up in the family gardening business, working in our fields in Blackburn and selling vegetables on the Byward Market. We took over from our parents Michael and Isabelle, in the early 1970s and eventually started growing perennials only.
Through the years our wives Evelyn and Doris, and our children Sharon, Jennifer, Brian, Julie and David Jr. have worked with Budd Gardens, making it a true "family business."
Theresa and Peter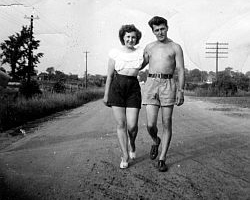 Michael and Isabelle
Don and David Budd