Dianthus 'Raspberry Ruffles'
Price (excl. tax)
$17.99
HST (13%)
$2.34
Price (incl. tax)
$20.33
Common Name: Pinks
Flower: Pink Shades
Container Size: 2 quart pot
PROVEN WINNERS BRAND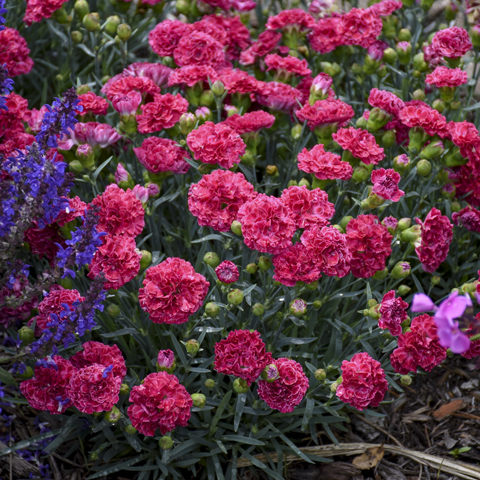 Image Credit:
Walters Gardens
Sun Exposure:
Full Sun To Part Sha
Bloom Time:
Early Summer To Early Fall
Qualities:
Attracts Butterflies, Bee Friendly, Deer Resistant
A beautiful new addition to the FRUIT PUNCH® series! This Dianthus produces large, florist quality, fully double, raspberry pink blossoms about 1¾ inches wide. Each serrated petal is framed by a razor thin white edge. Unlike other flowers that might fade, 'Raspberry Ruffles' maintains its raspberry pink color throughout its bloom season. A polished, upright habit with blue-green foliage completes this perfect package. Flowers appear in early summer, and a quick shearing after flowering will encourage them to rebloom in early fall. FRUIT PUNCH® Dianthus are just the right size to edge the front of the sunny border and use in combination containers.